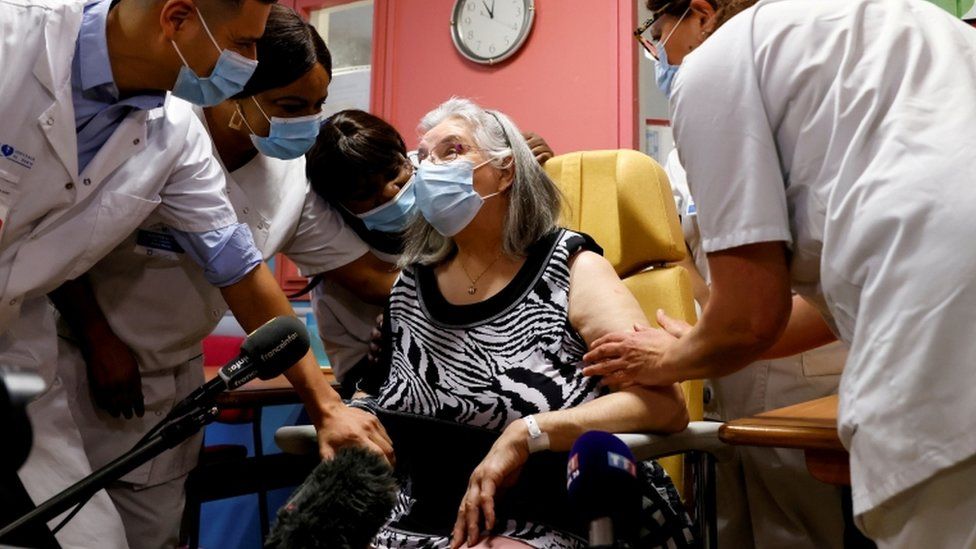 A global race is on to vaccinate people against Covid-19 — and with infections soaring in Europe many have complained that the roll-out is too slow in the EU.
Member states decide individually who to vaccinate, when and where, but the EU is coordinating strategy and buying vaccines in bulk. On Friday, the EU Commission agreed to buy an extra 300 million doses of the Pfizer-BioNTech vaccine — that would give the EU nearly half of the firm's global output for 2021.In an election year, the vaccine has become a political battleground, writes Jenny Hill, in Berlin.
The fact it was German scientists who developed the first effective Covid vaccine has been the source of great national pride. And, by and large, Germans appear to be reasonably comfortable with the idea of immunisation.
A recent survey found 65% were prepared to have the vaccine. Other research indicates that less than a quarter of those surveyed would not. But politically — and perhaps unsurprisingly, given this is an election year — Germany's vaccination programme has become a battleground.
Vaccinations began here just under two weeks ago and prioritise the over 80s and care home workers. By Thursday evening, more than 477,000 first doses had been administered.But some of the hundreds of specially prepared vaccination centres are still not in use and even the government has admitted there simply isn't enough to go around. Angela Merkel and her health minister Jens Spahn have been accused of failing to secure enough doses.
Much of the criticism has come from Mrs Merkel's own coalition partners but some within the scientific community have echoed their concerns — that Germany put European interests above its own by insisting on a joint EU procurement process. The scientists who developed the vaccine have said publicly that the EU originally turned down an offer for a further order.
Germany's share of the EU order amounts to 56 million doses. So far, 1.3 million doses have been delivered and it's thought that by the end of the month a further 2.68 million will have followed.
Mr Spahn, whose assured performance through the pandemic led some to wonder whether he might be a potential successor to Mrs Merkel, has blamed the shortage on the inability of the manufacturers of the Pfizer-BioNTech vaccine to meet global demand.
Germany has now ordered an extra 30 million doses and, following the recent European approval of the Moderna vaccine, expects to start rolling that out next week. The government is sticking to its pledge that the vaccination programme will be complete by the end of the summer.
For more details, you can visit our website at: joker